Hello, today I would like to show you sample implementations for connection and Publish / Subscribe to MQTT Broker.
Example is using public MQTT Broker located in Slovakia - use only for development (not my Broker)... Everyone can see / modify your datas there.
MQTT Broker details: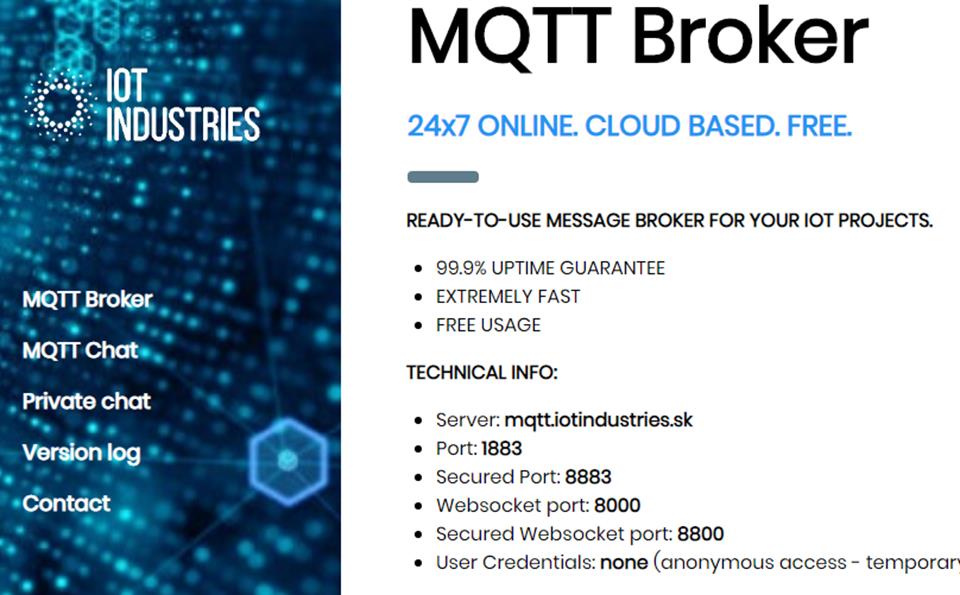 Webpage of MQTT Broker:
https://mqtt.iotindustries.sk/
Implementations are for MQTT and secure MQTT (MQTTS) connection with that Broker. ESP32 is using socket for connection based on WiFi.h library or secured socket under WiFiClientSecure.h. Implementation for MQTT is for WPA/WPA2 PSK and also for Enterprise networks (such as eduroam, Ziggo). Each implementation is Publish-ing increment value from counter... Datas are send each 10 seconds and they are also Subscribed from same board (verify of sent datas).
Implementations are ESP8266, ESP32, Arduino + Ethernet compatible (MQTTS only for ESP8266, ESP32).
Topic for Publish / Sebscribe in example: esp32/pocitadlo
Output in Serial monitor:
If you want to read all topics on MQTT broker, ask for topic #.
You can see user datas about temperature, humidity, users in channels (chat) and so on. That MQTT Broker is public and anyone can modify / delete / read your datas too. For that you can use that server as backup or for testing / developing purposes.
Output will be:
Implementations available also at:
https://github.com/martinius96/MQTT-Bro ... Industries
MQTT connection - WPA/WPA2 - PSK
MQTT connection - WPA/WPA2 - Enterprise (eduroam, Ziggo)
MQTTS connection - WPA/WPA2 - PSK (SECURED MQTT)
MQTTS connection - WPA/WPA2 - Enterprise (eduroam, Ziggo)
https://arduino.php5.sk/?lang=en